"Luxury living at Hubris Towers: Isn't it time you get what you really deserve?"
Comedy of manners meets comedy of errors in a new series for fans of Fawlty Towers and P. G. Wodehouse.
Don't miss an episode! Sign up for Hubris Towers updates and get Episode 2 FREE!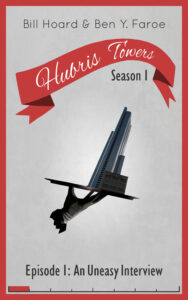 When Jimmy Acorn applies to become the new concierge at Hubris Towers, there are a few things he doesn't know. He doesn't know how he's going to make this month's rent (or last month's, for that matter). He doesn't know why rich tenants would move into a building that's still under construction. And he doesn't know, strictly speaking, just what a concierge does.
What he does know is that eviction is looming and a PhD in literature isn't nearly as marketable as he'd hoped.
So when his interview spins out of control thanks to an infuriatingly helpful bellhop, a grimly courteous manager, and a mounting pile of errands from the condo's eccentric denizens, Jimmy has no choice but to smile hard, find some allies, keep the puppy away from the champagne, and see if he can carve out a niche for himself in the wildly unexpected world of Hubris Towers.
Hubris Towers is a fresh comedy series released in 45-55 page episodes.