Hi guys,
Man. So much cool stuff in progress that I've barely had a chance to look up. Sorry for dropping off the face of the earth a bit.
So the big theme these days is getting one-time infrastructure-y tasks of various sizes out of the way. I have a bunch of things looming/nagging, like finishing my newsletter's welcome series or publishing The Dream World Collective or launching a website for Clickworks Press. Bad news is they're each a ton of work. Good news is once they're done, they're done (unlike, say, Hubris Towers, which is running on a 6-week cycle so only gives me a little breathing room before it starts back up.)
I've realized these looming tasks take up almost as much brainspace as whatever I'm actively working on, so I'm really excited about the prospect of getting them resolved. I think life will feel free and easy (relatively speaking) when I can settle down to just working on the next story and building Clickworks Press with more focus on the business/community side than the web development side.
My brain is a very busy place these days. Here are some of the top things on my mind.
Hubris Towers Episode 5
Bill and I have completed half a season of Hubris Towers. (Woo!) But Episode 5 is starting to loom, with a target release date of 10/20/15.
Bill has been awesome and finished the plan in record time. Usually we work concurrently, with him a few scenes ahead of me at any given time. This time he was diligent and I was on vacation, so (pending a final conversation and maybe some tweaking) it's all on me to just sit down and write it at this point. Yup. Three weeks left to get from zero words to holding a published copy. So…no pressure.
That said, my lovely wife and daughter are going to be out of town for a week, so I'm going to have a lot of quiet free time, and my crazy goal is to see if I can just sit down and bang out the whole rough draft in a day. Or two. That would be amazing.
Newsletter Welcome Series
I want people who sign up for my newsletters to get a proper welcome. The trickiest part, setting up an optional weekly delivery of free Dream World Collective chapters, is basically done. Huge relief. Now I'm working on a few final pieces and I'll be ready to kick this off.
I want to add an email that gives a little cool background on The Stone and the Song, but I'm having trouble figuring out an interesting angle that hasn't been done to death already.
I also set up a fun little reader quiz, which was way too long to start with, so I've decided to break it up, with a few fun easy questions for starters and a button at the end to take the reader to the next level if they're interested. Only problem is that means turning one email into about 3-4 that trigger each other when a person clicks the button. I've got the method down, so at this point it's just busywork, but still adds probably several hours of work.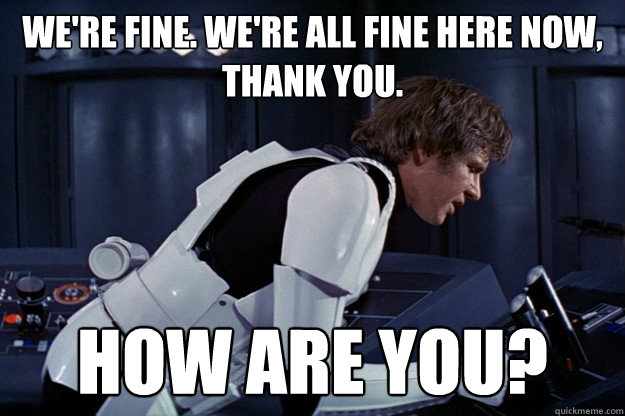 I cannot tell you how excited I am to launch this welcome series. It's so much fun. It's got Han Solo and secret tips on [REDACTED] and a sandcastle story and free access to a novel I haven't even released yet. And no creepy tentacles. I think it's going to be one of the best ways I've invented yet to make friends with strangers. So I'm also in the back of my mind trying to figure out how to let people who are already signed up for the newsletter try it out, both for testing purposes and because it's awesome.
Clickworks Press Website
This one is crazy cool, though a little complicated behind the scenes. My vision is to build a website that will draw out what we love about stories, characters, authors, and each other, with specific and interesting prompts that go beyond star ratings or generic reviews.
Like, what if you got to talk about your favorite setting in a book, or your favorite food scene, or pick colors that go with characters, or rage against the villains, or whatever, and a bunch of other people were doing that too, and all of that got aggregated on the book page and made one big story of our collective experience with this book? And then what if you could do that with characters, too, and see all the main characters in a book, or all the stories a character shows up in, or all the stories an author has written, or read, and all the cool little things readers like about the authors, too, and about each other, and—anyway. Run-on paragraph.
And there's more beyond that, but we'll start there. Of course, building a website from scratch would be a big enough job even if it were a simple little e-commerce site, not a revolutionary new kind of online communal-story-lovefest. And I don't want to wait until I've invented and built a whole story-love platform before I launch any of this publicly. So I've got this thing divided into phases, viz.:
Phase 1 – Visible, attractive front page. Links (if any) work.
Phase 2 – Full hierarchical catalog of Clickworks books and author pages.
Phase 3 – Readers can create accounts and log in and leave a basic snippet.
Phase 4 – First side game and more snippets.
Right now I'm almost done with Phase 2, and I think once that's solid I'll do at least a soft launch. At the moment I still routinely break the site as I make little tweaks and teach myself…wow, come to think of it, two or three programming languages plus a framework or two. Like I said, complicated.
But the super-cool part (at this stage) is that all the effort I'm putting in on the front end—(I mean…in advance. I think it's more like the back end, in web development terms. Or the middle end. Anyway.) All this effort up front is creating the coolest setup. I've nearly got it to the point where I can just fill out a new book's information once in a pretty, user-friendly form, and the right stuff will show up everywhere it needs to throughout the site.
Like, once I've loaded in a book's information, it will automatically generate (as appropriate given the rules I'm setting up) a preview on the front page and on the summary Books page, link the book on the author's page, and, with only one simple line of code (really a shortcode), generate a full book page complete with buy links to any platforms the book is available on, author bio(s), etc., with customized bits based on the book's publication date and whether it's available for purchase. (For example, if it's available for purchase but future pub date, it gets listed as Coming Soon and shows pre-order links.) It's a little like magic.
(For the curious techies among you, I'm building it with WordPress, making extensive use of the Pods plugin, which makes it easy to define and use custom post types and taxonomies, as well as providing pretty powerful templating tools. Let me know if you're interested in hearing more. It's super-sweet.)
I'm using Gumroad for direct sales and payment processing, and it's quite elegant but not as powerful as I'd really like. Basically Gumroad has a super-sweet setup if you're just selling items, but I want to be able to do cool micro-patronage stuff it's not really built for and display information it doesn't really make available in the ways I need, so I'm on the bubble. Stripe (and maybe Braintree) could do what I need, but I'd need to be a way better programmer before I'd feel comfortable using them. As I read the situation, Gumroad is a super-safe, simple way to get your products online and sell them, and it's beautiful, but it's able to be that simple and beautiful because it's carefully focused on a specific task.
Things like Stripe have a powerful API (basically a way to program interactions with a site/app/service) that would let me do pretty much whatever I want, like make a charge to a credit card when some event triggers (say, we hit a support goal for a project a la Kickstarter), except I totally am not at a level where I'm comfortable just telling my website when it can go ahead and charge peoples' cards. I make little mistakes from time to time, and I want to make sure that when I do, it results in things like a broken link or a page not displaying quite right, not someone getting double-charged or an author not getting paid.
So for now I'm sticking with the simple, secure, beautiful Gumroad, and dreaming of the day I can hire a proper developer, dig into the Stripe-or-similar API and really kick things up to the next level.